PACS to create on Cloud Server.
View studies using web browser on PC or tablet via internet.
Securely share medical images, safely manage in a remote location.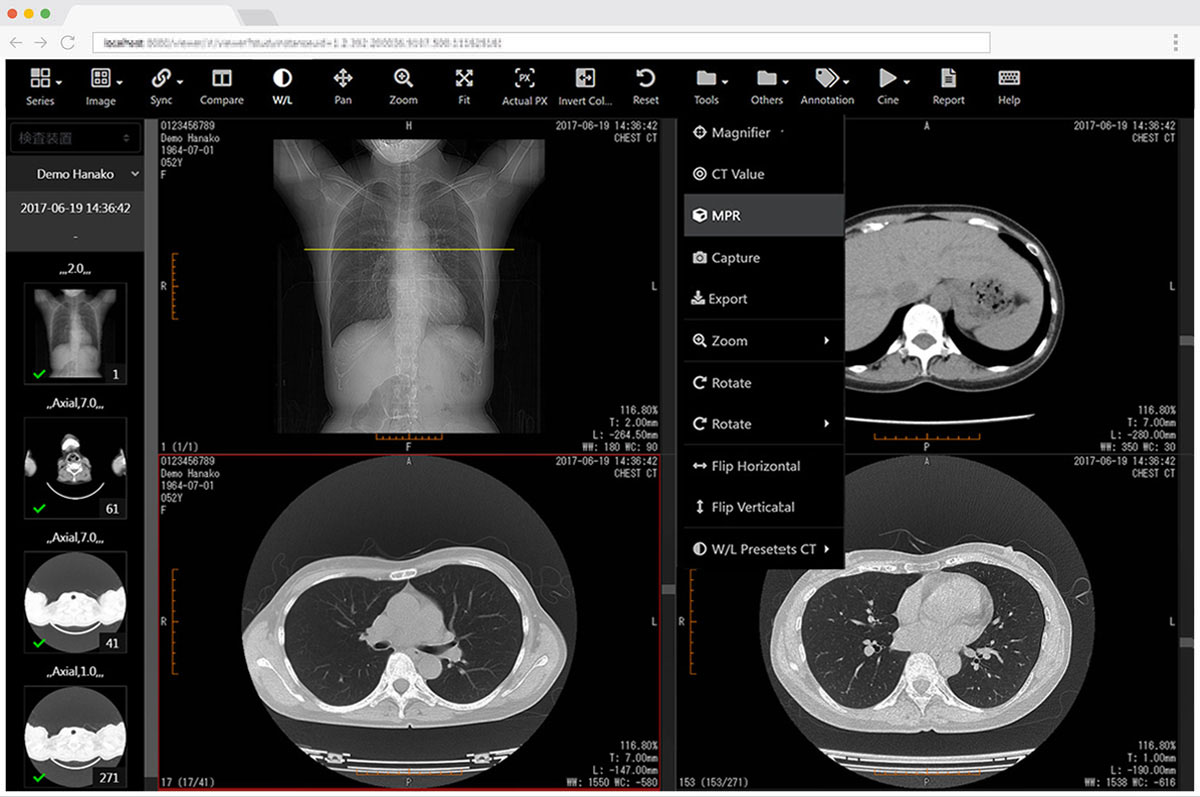 Scanned images are uploaded to the cloud and ready to be viewed.
You can access your images over the internet at anytime, anywhere in the world.
Images can be easily shared with patients and external physicians. Goodbye to CDs, DVDs and films.
Automatically delete old studies matching your criteria. Operate with less storage space.
Completely free from server maintenance and backup. Focus on your workflow.
You can always use the latest version at no extra charge. Updates will be done automatically.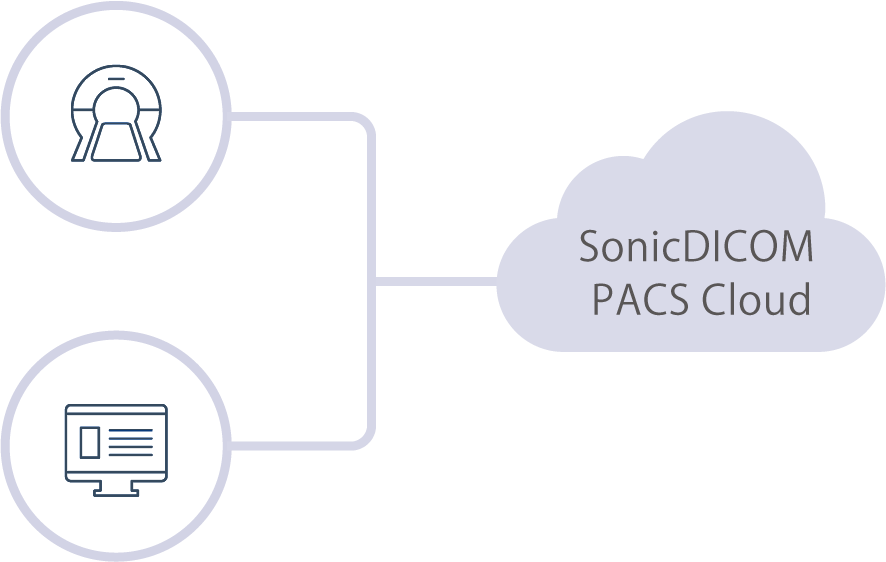 Images can be automatically uploaded via Cloud Connector installed on the Windows PC.
See Setup Guide (PDF)
Seamlessly integrates with web-based EMR, HIS and RIS.
By launching your web browser with a URL from those apps, you can easily log in to PACS and view the study.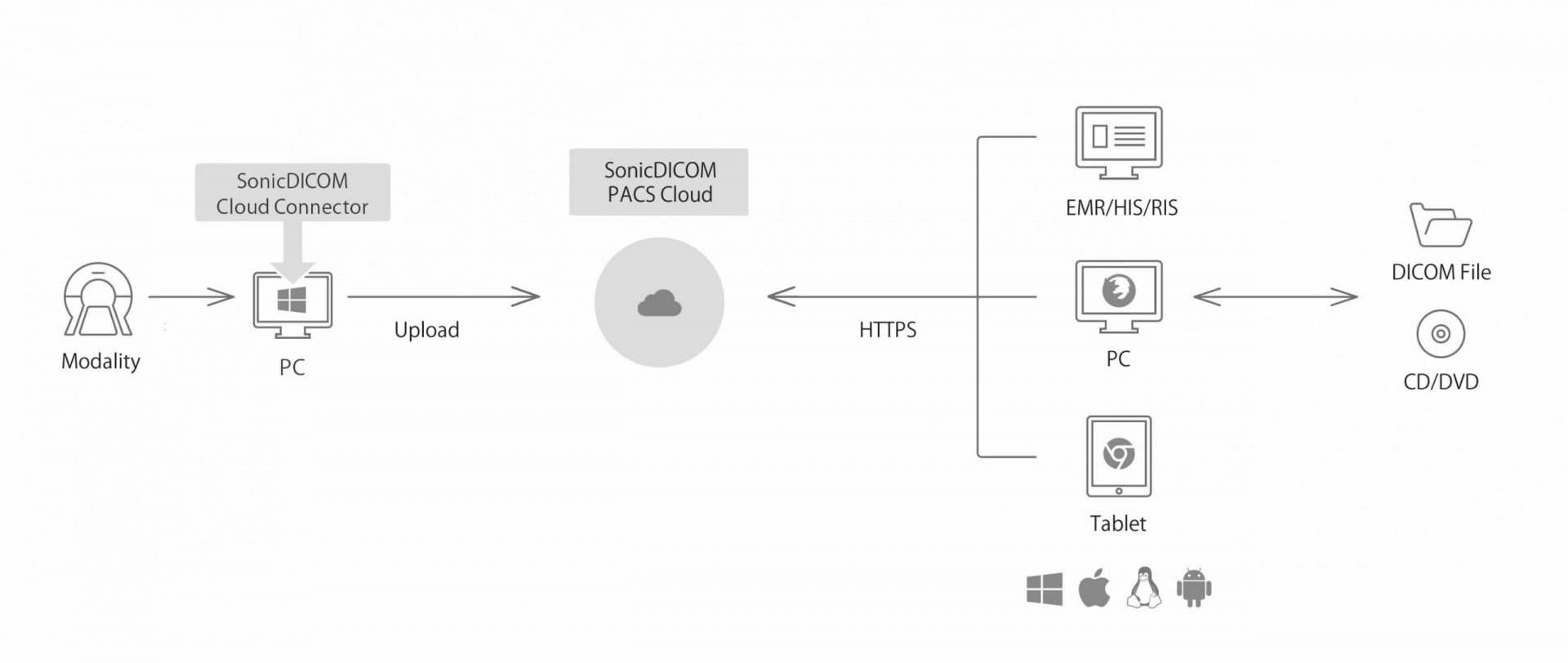 Your medical images are encrypted and stored in a cloud server. This prevents unauthorized external access, tampering, and identity theft, making it secure to use. Since it is a cloud server, you can be prepared for unexpected disasters.
See more details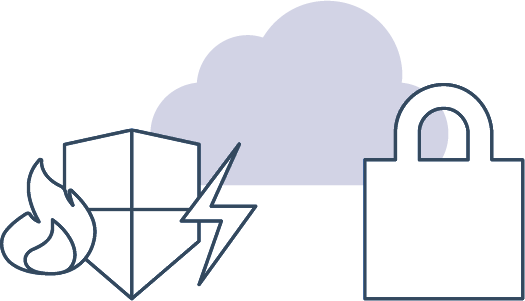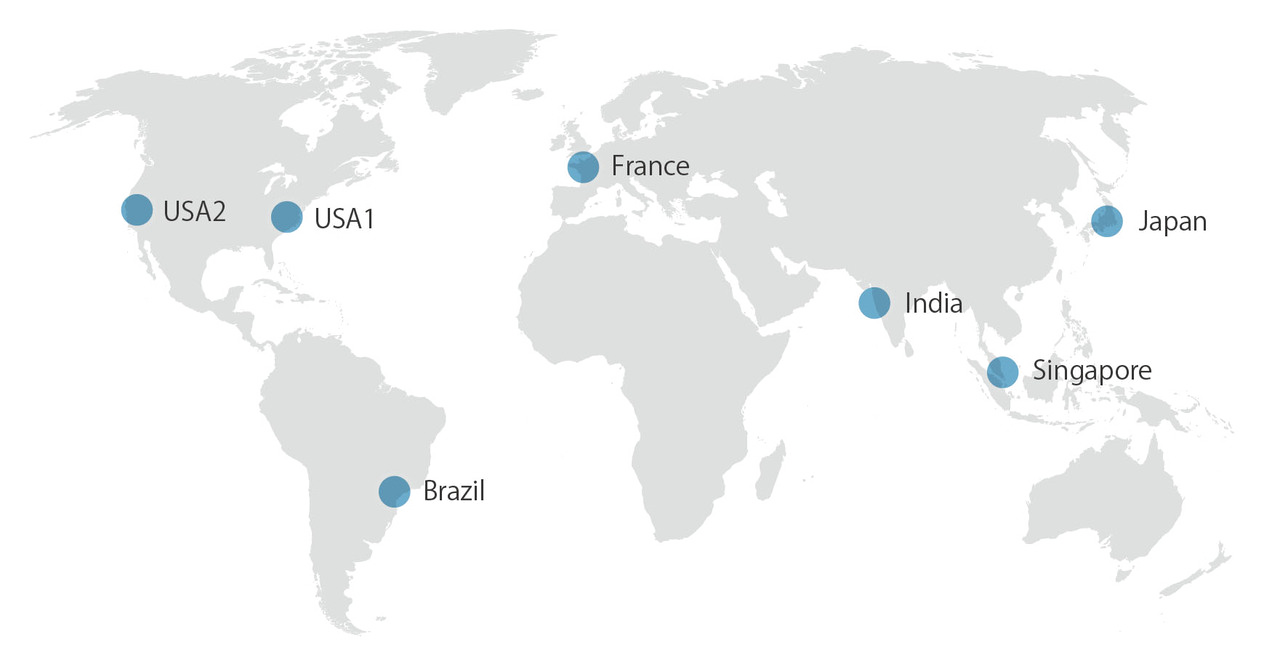 Data storage locations in 7 regions
Brazil (Sao Paulo)

France (Paris)

India (Mumbai)

Japan (Tokyo)

Singapore

United States (Virginia, California)
Multilingual interface for 11 languages
Brazilian Portuguese, Bulgarian, Dutch, English, French, Italian, Japanese, Korean, Persian, Spanish, and Vietnamese.
Sign up and create a PACS on the cloud server. 3 GB storage is available for free.
All features are available. You can even connect to modality and integrate with EMR, HIS and RIS.
Choose a plan and options that meets your needs. You can complete everything online.
FAQs about Cloud PACS
Get answers to your questions:
1. Sign up PACS Console that can manage your Cloud PACS.
2. You can sign up with either your email address or your Google account.
– If you use your email address, you will receive a confirmation email (subject: [SonicDICOM] Verify your email).
Click "Get Verified" in the email.
– If you use your Google account, click "Sign Up with Google".
3. After logging in to PACS Console, enter your profile.
4. Enter the information to create the PACS
PACS
Name: A name to identify your PACS
Region: Select a region to host your PACS

Admin Settings
Country: Select your country
Time Zone: Select your time zone
Language: Select your default language
Date Format: Select the date format
Unit of Length: Select the length unit (mm/inch)

5. Your PACS will be created and PACS Console will appear.
6. Click "Go to PACS".
7. Log in to your PACS.
The ID and password for PACS is the same as the one you used when signing up for PACS Console on step 2.
Credit cards are accepted for payment.
The purchase procedure is as follows.
Log in to PACS Console.
Select "Purchase".
Select a plan.
Confirm a plan and price on the purchase page, enter your credit card information and others, then select "Subscribe".
After the purchase process is complete, you will receive a receipt notification email.
Confirm PACS Console whether the plan you purchased has been applied.
It means the number of studies/patients per month that are shared using Share feature to guest who do not have an account.
Share feature allows you to share a study or patient to an Institution/Role/Account or guest.
If you share a study, they can view that study.
If you share a patient, they can view all the studies of that patient.
If you share a study/patient to an Institution/Role/Account, they can view the studies of the shared study/patient by logging in or accessing the URL.
If you share a study/patient to a guest, they can view the shared study/patient by accessing the URL with an access key.
Monthly Shares will be counted only if you share to a guest.
On-Premises PACS:
Yes, you can use a DICOM viewer that meets the following requirements.
Compliant with DICOM Standard.
Supports Study Root Query/Retrieve or Patient Root Query/Retrieve.
For detail, please refer to: Documents > Install Manual > Connect To DICOM Viewer
Also, for the technical information, please refer to: Documents > DICOM Conformance Statement
Cloud PACS:
No, you cannot do so at the moment.
This is because it does not support DICOM Query/Retrieve SCP at the moment.
We plan to support it in the future.
Regarding how to connect with modalities, please refer to: Documents > Install Manual > Connect To Modality
Still you cannot connect even if you set according to the above procedure, please check our product is the latest version.
If it is not, please update it to the latest version.
Problem may have been already solved.
If the latest version cannot solve it, please send us DICOM files of this modality and our product log file.
Once we receive your DICOM files and log file, we will start investigation.
Normally, log file is named as "status.log" in the directory that is specified by PACS Manager.
Please send DICOM files by using Email, uploading to cloud storage, postal, and so on.
And please make sure to delete personal information that included in DICOM files in advance.
In addition, the shipping cost and other cost will be paid by the customer.
We appreciate for your understanding.
Our support is provided by email only.
We do not provide any support by phone, Skype, or on-site.

If you need support other than by email, we can introduce you to one of our distributors.
Please contact us through the contact form, including your request for support from a distributor.

Also, documents are available to help you learn how to use and configure the products, its specification, and how to solve problems.
Please make sure to read them before contacting us to see if you can solve your problem.
Support Details
Please contact us if you have any problems or if you still have questions after reading the documents.
Our Support Team will help you solve them.
In addition, we will investigate and fix any cases such as the following free of charge:
There is a problem with the product
Unable to import/read DICOM files
Unable to connect with the modalities/third party's DICOM viewer
Please feel free to let us know.
Support Hours
Normally, we will reply to your email inquiry by the next business day.
However, it may take longer to reply if we have many inquiries, or depending on the details of your inquiry.
Our business hours are 10:00 AM to 5:00 PM in Japan Standard time, and holidays are governed by the Japanese calendar and customs.
Thank you for your understanding.
Products that run on a web browser are sometimes called web-based.
We call it that because our DICOM viewer runs on a web browser.
On-Premises PACS:
It does not need to be connected to the Internet.
PACS is installed on a PC/server in the local network, so any device in the same network as it can access it via a web browser.
Cloud PACS:
It needs to be connected to the Internet.
This is to access the PACS on the cloud server via the Internet.
Contact Us
We would love to hear your feedback.
Our Information
SonicDICOM Support Team
sonic@sonicdicom.com
For Distributors
We are looking for Distributors all over the world. If you are interested, please visit this page.