Web-based On-Premises PACS
Local archiving and sharing platform of medical images and clinical documents.
Install the software yourself on the local server, manage and view images in stable network at high speed.
Version 3.12.2 (2023/11/01)
Easy to set up and maintain PACS yourself without any technical knowledge
Get our PACS software right now and try out all the features for free.
Simply launch the installer, follow the wizard, and PACS will ready to start immediately.
All you need is to enter 3 parameters into your modality to complete the connection.
You can flexibly select server hardware specs to suit your budget and needs.
Images can be viewed at high speed even on low-spec devices as most of the image processing is done on the server side.
You only need to run the installer on the server to update it. Nothing needs to be done on the client side.
You can preset and control the studies to be viewed.
For example, a study uploaded 1) as a specific institution, 2) by a specific modality and 3) of a specific body part.
You can set permissions for the use of features and access to pages. And you can prevent data tampering or leakage by restricting the use of editing, deleting, exporting, etc. of studies.
Multiple monitors allow for efficient and effective use of your workspace. Window opening position and size can be set in pixel units.
Each user can make detailed settings to meet his or her own needs and pursue the best usability. No matter which device you log in on, you can work as efficiently as always, with your usual ease of use.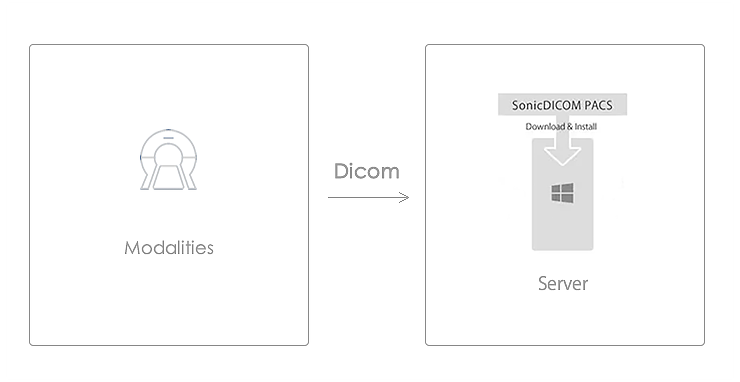 You can store the images sent from modalities to the local server.
Also, you can import DICOM files and PDF/JPEG/PNG/BMP files from web browser.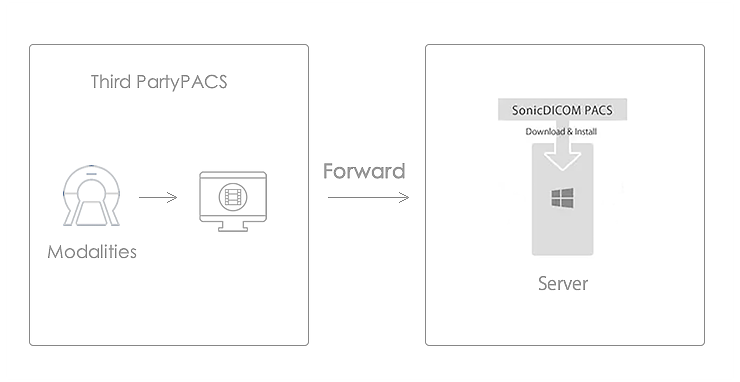 Sharing within your institution
With Viewing Control feature, you can set only those studies that meet certain criteria to be viewed. For example, you can allow a doctor of brain surgeons to access only the studies of CT and MRI scans.
Download and install free Trial Edition, follow the wizard, and PACS will ready to start immediately.
Select images on the web browser and import it. Or automatically send images from modality by entering just 3 parameters.
See how it helps and works for free.
All features are available, and can be integrated with EMR, HIS and RIS.
The free trial of On-Premises PACS has following limitations.
Maximum number of Studies: 10
Maximum number of Web Connections: 5
Maximum number of DICOM Connections: 5
Web Connection means the number of users who can connect with Web Viewer at the same time.
DICOM Connection means the number of devices/software that can connect by using DICOM communication. Such as Modalities (CR, CT, etc), third party's DICOM Viewers, and so on.
There is no limitation for features that can be used.
SonicDICOM PACS price is based on the number of Web Connections and DICOM Connections.
This license price is for a one-time purchase, not for a subscription.

You can see details of Pricing structure and Request a Quote.
If you would like to purchase our product through our Distributors, please describe about it.
By purchasing through our Distributors, they can provide you more suitable supports that meet your needs.
Payments can be made via either PayPal or bank transfer.
The currency for payment is US dollar.
The procedure is as follows:
First of all, Request a Quote.
Note: Please fill in the full address of your company, including items such as street name, street number, and zip code.
We will send you a quote and Order Form once we confirm the necessary information.
Fill out Order Form and send it back to us by Email.
After we confirm your order, we will issue an invoice and send Request Form of Professional License as well.
After you receive an invoice, please pay the indicated amount and fill in Request Form of Professional License.
After we confirm your payment and Request Form, we will issue your Professional License and a receipt.
You can migrate current data easily by importing DICOM files.
There are two ways to import.
Use an import feature of PACS Manager.
Use an import feature on List screen of Web Viewer.
If you have many files or total volume of file is big, we recommend using PACS Manager.
Regarding how to import DICOM files, please refer to: Starter Guide > PACS Manager > Import DICOM Files
Yes, you can integrate with web-based applications via URL.
For detail, please refer to Integration Guide
Please check on-premises PACS is the latest version.
If it is not, please download and install the latest version: Download the latest version
If the latest version cannot solve it, please send us DICOM files and our product log file to "sonic@sonicdicom.com". We will investigate it without any cost.
Make sure to delete personal information that included in DICOM files in advance.
Log file is stored in "C:\Program Files\SonicDICOM PACS\Log" by default. You can check where it stored by PACS Manager > Server > Log Path.
We answer your inquiry basically by email only.
We do not provide any support by phone, Skype, or on-site.
However, our online manuals and FAQs are available 24 hours a day, 365 days per year.
You can learn how to use the product, how to configure it, its specifications, and how to solve problems yourself, anytime you want.

If you still have any problems or questions after reading them, please let us know through Contact Form.
We will investigate any cases such as the following free of charge:
There is a problem with the product
Unable to import/read DICOM files
Unable to connect with the modalities/third party's DICOM viewer
* About support from distributors:
If you are in a country or region where we have distributors, they can provide a support on-site or by phone.
If you would like to ask a support from them, please let us know through Contact Form.
* Support Hours:
Normally, we will reply to your e-mail inquiry by the next business day.
However, it may take longer to reply if we have many inquiries, or depending on the details of your inquiry.
Our business hours are 10:00 AM to 5:00 PM in Japan Standard time, and holidays are governed by the Japanese calendar and customs.
It depends on the laws and regulations in your country or region.
SonicDICOM PACS is not certified FDA, CE, or other certifications, nor is it HIPAA compliant.
If your country or region requires such certification to use a PACS for diagnostic purpose, you cannot use our SonicDICOM PACS for these purposes.